Online notarization with US Legal Forms — 24/7/365
Get your documents notarized in a matter of minutes! User-friendly interface, zero waiting time.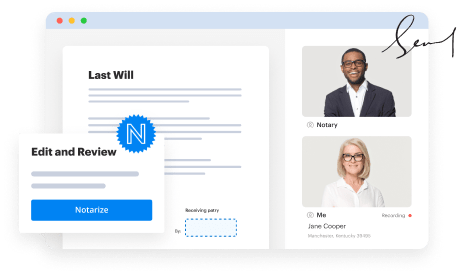 Notarize online in 3 easy steps
1. Upload a PDF document, use online editor to complete fillable fields. Once done, click Notarize Online.

2. Choose one of the available online notary and get your documents notarized via a quick video call.

3. Download the notarized document or email it to your counterparties directly.
Notarize forms and letters remotely
Available any time

The service is available at any hour, anywhere in the US.

Legally valid in all states

E-notary carries the same legal weight as in-person notarization.

On desktop or mobile

All you need is Internet access, a working camera, and a valid ID. Digital notary will do the rest.
Questions & Answers
How to notarize documents online.
How does online notarization work?
How much does it cost to get something notarized online?
Can I use online notarization services on a bank holiday?
Can I notarize ANY document?
Is electronic notary secure?
Try Notarize Now!
Get your paperwork notarized in a few minutes only! Upload your file, get it authenticated by a trusted online notary, and store your copy in a secure cloud storage service.